Chrysler has a much smaller lineup than it did fifteen years ago. The automaker essentially makes three different models in the year 2020. These three survivors carry on a legacy that began in 1925 when Walter Chrysler combined a few other automotive companies into an automotive powerhouse. The current lineup from Chrysler may seems small considering how many models have come and gone in almost 100 years, but that means those that have stuck around did so for a reason. Read more of this entry to learn about the three Chrysler models you can buy in 2020.
What is the Chrysler Model Lineup for 2020?
Chrysler Pacifica and Chrysler Pacifica Hybrid
In 2020, the most common Chrysler model is the Chrysler Pacifica. It is common enough to have a second version available, the Chrysler Pacifica Hybrid. As you can guess from the name, the Pacifica Hybrid is a hybrid version of the minivan. If you remember the older Chrysler Town & Country minivan, the Chrysler Pacifica has inherited that model's legacy and many of its traits in recent years and the Town & Country has been discontinued.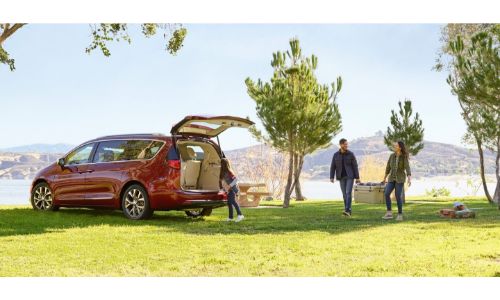 Chrysler Voyager
The Chrysler Pacifica is not the only minivan available from Chrysler. The newest model name to come out of Chrysler is the Voyager, a smaller minivan meant more for young families and their needs rather than the Pacifica which is built for comfort and refinement for grown passengers.
---
How Many People Can Fit in the 2020 Chrysler Pacifica?
---
Chrysler 300
The third surviving member of the 2020 Chrysler lineup is the Chrysler 300. The Chrysler 200 was discontinued and now the 300 is the only remaining member of the legendary Chrysler luxury sedan family. It is up to the Chrysler 300 to keep the long tradition of classy Chrysler sedans alive, but only time will tell how the difficult economic crises affect the model and the brand at large. For now, though, it won't hurt to check out the beautiful 2020 Chrysler 300.
More From Renfrew Chrysler