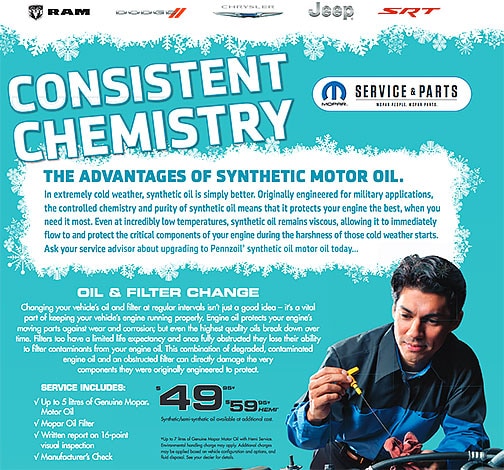 Oil & Filter Change
Changing your vehicle's oil and filter at regular intervals isn't just a good idea - it's a vital part of keeping your vehicle's engine running properly. Engine oil protects your engine's moving parts against wear and corrosion; but even the highest quality oils break down over time. Filters too have a limited life expectancy and once fully obstructed they lose their ability to filter contaminants from your engine oil. This combination of degraded, contaminated engine oil and an obstructed filter can directly damage the very components they were originally engineered to protect.

The Advantages Of Synthetic Motor Oil
In extremely cold weather, synthetic oil is simply better. Originally engineered for military applications, the controlled chemistry and purity of synthetic oil means that it protects your engine the best, when you
need it most. Even at incredibly low temperatures, synthetic oil remains viscous, allowing it to immediately flow to and protect the critical components of your engine during the harshness of those cold weather starts.

Ask your service advisor about upgrading to Pennzoil synthetic motor oil today.